Init 5
Sol - An MQTT broker from scratch. Part 4 - Data structures
posted on 7 Mar 2019
Before proceeding to the implementation of all command handlers, we're going to design and implement some of the most common data structures needed to the correct functioning of the server, namely hashtable, list and a trie. The last one, being not strictly necessary at this point of the development, will be crucial to manage the abstraction named topic.
Maybe all these data structures are a bit of an overkill for such a low-size project, but I like to have generic containers and data structures available when I start a project longer than a bunch of lines, for convenience and for future increments and implementations where they could come handy. And of course, there's the learning and exploration side of this activity which I found very valuable.
Let's start with a simple hashtable, essentially an array that uses a hashing function to obtain a valid index to store our information, trying to minimize the collisions (e.g. keys that compute to the same hash resulting in an already taken index in the array) as much as possible.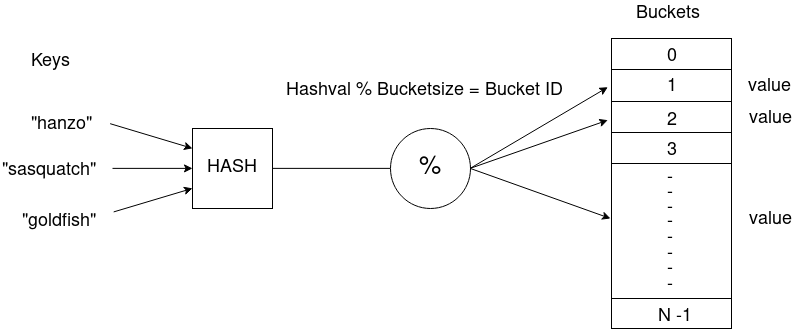 Buckets is the array, usually dynamic, which will store the information associated to the keys.
---
src/hashtable.h
---
---
We define some sort of encapsulation by defining the structure in the source file instead od the header, this way it will be only accessible through functions (like methods in a class).
---
src/hashtable.c
---
---
Our hash function just compute the CRC32 of a given string, using the knuth multiplicative method, another valid hash could be the Murmur3, but I won't analyze the best algorithms and implementations around that best work for key hashing.
We'll surely gonna need a list as well, vector could be more performant by leveraging his cache-friendly nature, but the gain is not so high for what we're going to do, O(1) in insertion will be good enough for our use-cases. Our sequential container will be based on a singly-linked list, with a pointer to head and tail, this way we ensure O(1) for insertion on either sides.
---
src/list.h
---
---
---
src/list.c
---
---
We have successfully implemented two classic data structures that offer useful features to our project:
The next structure must be something that allow us to easily manage the topics and their hierarchical nature.
Part 5 will focus on a tree implementation that provide exactly what we need.